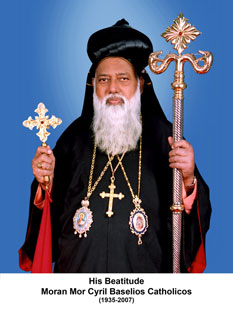 Moran Mor Cyril Baselios Catholicos
The Third Metropolitan Archbishop and the First Major Archbishop-Catholicos of the Syro-Malankara Catholic Church James was born on 16 August 1935 at Ullannoor in Pandalam in the district of Pathanamthitta, Kerala, India, as the son of Mathai Malancharuvil and Aleyamma. He had his elementary education at Mezhuveli. He successfully completed his tenth standard in 1950. He is one among the six brothers of the Malancheruvil family who gave importance to the religious life dedicating their life to the service of Christ and his Church. He was sent to the Bethany Ashram by Archbishop Mar Ivanios and was received there on 15 June 1950. He made his temporary profession of vows on 18 March 1953. Later he was sent to the Bethany Ashram, Pune to pursue his studies in Philosophy and Theology at the Pontifical Athenaeum. On completing the major seminary and ashram formations successfully he was ordained priest at the Papal Seminary, Pune in 1960. After returning to Kerala, Fr. Cyril took charge of some of the mission centers in Thiruvananthapuram. Here he was deeply involved in the development of the human society especially the poor. Thereafter he was sent to Rome and joined the Gregorian University to study Canon Law. His dissertation titled 'the Syro-Malankara Church' is the study that specifies the canonical status of the Malankara Catholic Church. On returning to Kerala, he was appointed professor in St. Thomas Apostolic Seminary, Vadavathoor, Kottayam. Fr. Cyril was sent to St. John's University in New York in 1970 for his higher education in Psychology, which he completed with the highest rank.
He was elected Superior General of the Bethany Ashram in 1974. In 1978 he was consecrated Bishop by His Grace Archbishop Benedict Mar Gregorios at Thirumoolapuaram. He was appointed Metropolitan of Bathery in 1978. His stewardship of the Eparchy for 19 years was a milestone in the religious and social development of the Diocese and of Bathery as a whole. He was appointed a member of the Congregation for the Eastern Church in 1989. He participated in the Asian Bishops' Conference held in Indonesia in 1990 as the representative from India. He became the President of Catholic Bishops' Conference of India (CBCI) in the year 2000.
Cyril Mar Baselios became the Administrator of the Syro-Malankara Catholic Church on the demise of Archbishop Benedict Mar Gregorios. He was appointed Metropolitan of the Syro-Malankara Catholic Church and the Archbishop of Trivandrum by Pope John Paul II on 29 November 1995. It was his farsightedness, prayer and hard work that raised the Syro-Malankara Catholic Church to the status of a Major Archiepiscopal Church. Moran Mor Cyril Baselios, the First Major Archbishop-Catholicos passed away on Thursday 18 January 2007. His mortal remains are entombed at the St. Mary's Cathedral, Pattom, Trivandrum by the side of his illustrious predecessors Servant of God Archbishop Mar Ivanios and Archbishop Mar Gregorios.
(For more details read the books: Sabhakkum Samoohathinumai (mal) By Fr. Issac Thottumkal)
(Sneha Nilavu By Fr. Daniel Poovannathil)
(Saphalam By P.P. James)