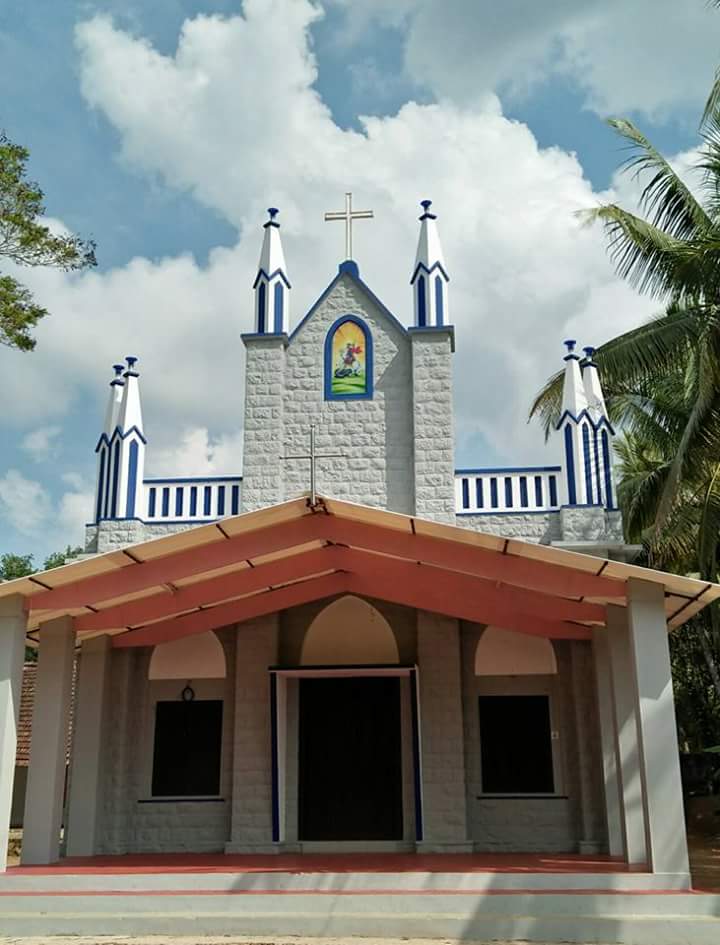 Vicar :Rev. Fr. John Varghese Palanilkunnathil
Ecl Dist : NEDUMANGAD
Estd Year :1957
Contact :
Email :
Address :St. George's Malankara Syrian Catholic Church, Chekkakonam,Azhikode P.O., Trivandrum Dt.-695 564
Description
Holy Mass Timing : Sunday : 7.30 am
Prayer service / Novena timings : Wednesday : 5.00 pm
Year of Establishment : 1957
Landed properties – Area : 52 cents
Institutions in Parish Jurisdiction : Nil
Shrines / Grottos with Name of Saint : Nil
Names of Priests ordained from the Parish : Rev. Fr. Christudas Charumoottil OIC
Name of Sisters from the Parish : Nil
History and Development
St. George Malankara Syrian Catholic Church, Koziyode in the Major Archdiocese of Trivandrum belongs to the Ecclesiastical district of Nedumangadu. The first community of this parish was formed in 1957. This Parish was established and blessed by Late Archbishop Benedict Mar Gregorios in 1957.
Former Vicars
1957 - 1958 - Rev. Fr. Samuel
1958 - 1958 - Rev. Fr. Chrisostom
1958 - 1959 - Rev. Fr. Andrews OIC
1959 - Rev. Fr. Geevarghese Panicker
1959 - 1960 - Rev. Fr. Kuruvila
1960 - 1962 - Rev. Fr. Panicker
1962 - 1965 - Rev. Fr. Daniel Ayyaneth
1965 - 1966 - Rev. Fr. Raphel OIC
1966 - 1969 - Rev. Fr. Norbert OIC
1969 - 1974 - Rev. Fr. Savio OIC
1974 - 1977 - Rev. Fr. Sebastian Kuttikattu OIC
1977 - 1986 - Rev. Fr. Philip Anniyil OIC
1986 - 1989 - Rev. Fr. Santhosh Madathil OIC
1986 - 1989 - Rev. Fr. Jose Kuruvila OIC
1986 - 1989 - Rev. Fr. Santhosh Madathil OIC
1994 - 1995 - Rev. Fr Savio OIC
1995 - 1995 - Rev. Fr. Ninan OIC
1996 - 1998 - Rev. Fr. Philip Neri OIC
1998 - 2003 - Rev. Fr. John Vattaparampil OIC
2004 - 2005 - Rev. Fr. Varghese Vinayanand OIC
2005 - Rev. Fr. Geevarghese OIC
2006 - 2007 - Rev. Fr. Christy John OIC
2007 - 2013 - Rev. Fr. Daniel Kadakampallil OIC
2013 - 2018 - Rev. Fr. Peter Kadamancode OIC
2018 - Rev. Fr. Christy John OIC
2018 - 2019 - Rev. Fr. Geevarghese Thiruvalil OIC
2019 -2020 - Rev. Fr. Mathew Reji OIC
2020 - 2023 - Rev. Fr. Joshua (Subin) Kochuvilayil