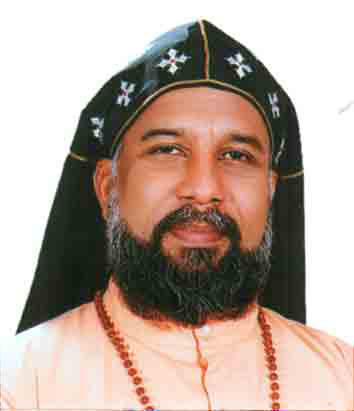 2001-2003
His Excellency Isaac Mar Cleemis (2001-2003):
His Excellency Isaac Mar Cleemis was born on 15 June 1959 as the son of the Mathew and Annamma Thottunkal at Mukkoor, Mallappally in the civil district of Pathanamthitta, Kerala, India. He was given the name Isaac. He hails from the traditional Pakalomattom-Powathikunnel family. He completed his primary education in St. Mary's Govt. UP School, Kunnanthanam and secondary education in St. Mary's High School, Annikad. Responding to the urge of God within him to surrender his life to the service of his Church and of the larger human community, he joined the Infant Jesus Minor Seminary of the Eparchy of Tiruvalla in June, 1976. Bro. Isaac completed his Pre-degree studies in St. Berchman's College, Changanacherry. Then he was sent to St. Joseph's Pontifical Seminary, Aluva for the philosophical studies..
In 1978, the Eparchy of Bathery was erected bifurcating the Eparchy of Tiruvalla. Bro. Isaac boldly decided to embrace the challenges of a mission diocese and thus opted for the new Eparchy of Bathery. After completing his philosophical studies and a year of regency, he was sent to the Papal Seminary, Pune for his theological studies. On 22 March 1986, he was ordained a deacon by His Excellency the Most Rev. Valerian D'Souza, the Bishop of Pune. In March 1986 he graduated in theology from the Pontifical Atheneum, Pune. On 11 June 1986, His Excellency the Most Rev. Dr. Cyril Mar Baselios ordained him a priest for the Eparchy of Bathery.
Fr. Isaac Thottunkal was then sent to Dharmaram College, Bangalore to do Masters in Theology. While doing his Masters, he served as the Vicar of the Malankara Catholic faithful in Bangalore and contributed much to the founding of the flourishing Malankara Catholic Missions in Bangalore.
Having successfully completed his Masters in Theology in 1988, Fr. Isaac Thottunkal returned to Sultan Bathery and served as the Rector of the St. Thomas Minor Seminary and the Parish Priest of the St. Thomas Cathedral in Sultan Bathery. Then he was sent to Rome to do Doctorate in Theology. In 1997, he completed his Doctorate in Ecumenical Theology from the University of St. Thomas Aquinas, Rome.
Having returned to his home Diocese after the studies in Rome, he served as the Spiritual Father of the Minor Seminary, the Chancellor of the Eparchy and as the Proto-Syncellus of the Eparchy.
Rev. Fr. Isaac Thottunkal, a priest of the Diocese of Bathery was appointed Auxiliary Bishop of Trivandrum and Apostolic Visitator for North America and Europe by His Holiness Pope John Paul II. His Grace Archbishop Cyril Mar Baselios consecrated him on 15th August 2001in the name Isaac Mar Cleemis.
(For more details read the history of His Beatitude Baselios Cardinal Cleemis, Major Archbishop-Catholicos)