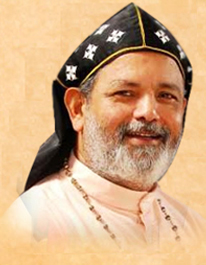 1998-2006
His Excellency Joshua Mar Ignathios (1998-2006):
He joined St. Aloysius Seminary in Trivandrum in 1967, and completed his pre-degree at Mar Ivanils College Trivandrum. He had his philosophy and theology training at St. Joseph's Seminary, Tiruchirapally, Tamil Nadu, from 1970–78. He was ordained as a priest on 2 April 1978 by the Metropolitan Archbishop Benedict Mar Gregorios. He served in the parishes at Kirathoor, Manjathoppu, Vimalapuram, add Susaipuram from 1978 to 1983. He graduated from Christian College, Marthandom, Tamil Nadu, and secured his master's degree from Madurai, Kamaraj University, Tamil Nadu, in 1984. He took Bachelor's and master's degrees in Education from Kamaraj University, Madurai in 1985 and 1987 respectively. Rev. Fr. Koshy Kizhakkethil, a priest of the Archdiocese of Trivandrum was appointed Auxiliary Bishop of Trivandrum by His Holiness Pope John Paul II. His Grace Archbishop Cyril Mar Baselios consecrated him on 29 June 1998 in the name Joshua Mar Ignathios.
He did research on "Leadership, Organizational Health with School Effectiveness" in Stella Matituna College of Education, Chennai and obtained a Doctorate from the University of Madras in 2000. Br Publishing Corporation published his doctoral thesis, School Effectiveness Through Leadership Style & Organizational Health in 2003.